Adobe Premiere Pro is one of the most popular video editing programs around and these training videos are designed to give you a rundown on some of the best work flows for using virtual sets with Adobe Premiere Pro.
Adobe After Effects is a great option for using our virtual sets and graphics. With advanced green screen and keying, adding your talent to a virtual set is quick and easy!
One of the most popular live video streaming platforms is vMix. This program allows you to replace a green screen background on the fly with a looping motion graphic like a virtual set.
Final Cut Pro is another leading non linear video editing programs that is very popular with our customers. Watch our training videos to get a better understanding of how you can use a virtual set in a Final Cut work flow.
While iMovie is free for mac users, it is a pretty powerful video editing program. You can use our virtual sets in iMovie with simple 2 layer green screen work. Check out these tutorials for a quick run down on how to use our virtual sets in iMovie.
Vegas video editor is a popular choice among video editing professionals. With advanced green screen and chroma keying tools, it makes the process of editing with a virtual set quick and easy.
Davinci Resolve is a FREE video editor from Black Magic design that is a really good option for any video editor. Check out our tutorials which take you step by step through how to use the software with green screen footage and virtual backgrounds!
Adobe Premiere Elements is a simpler version of the very popular Adobe Premiere Pro editing program. It is packed with features and is more than enough for most video editors. Premiere Elements also incorporates the ability to use green screen and virtual sets. Here are a few work flows you can incorporate in your editing process.
How to use a Virtual Set with my Video Editing Program?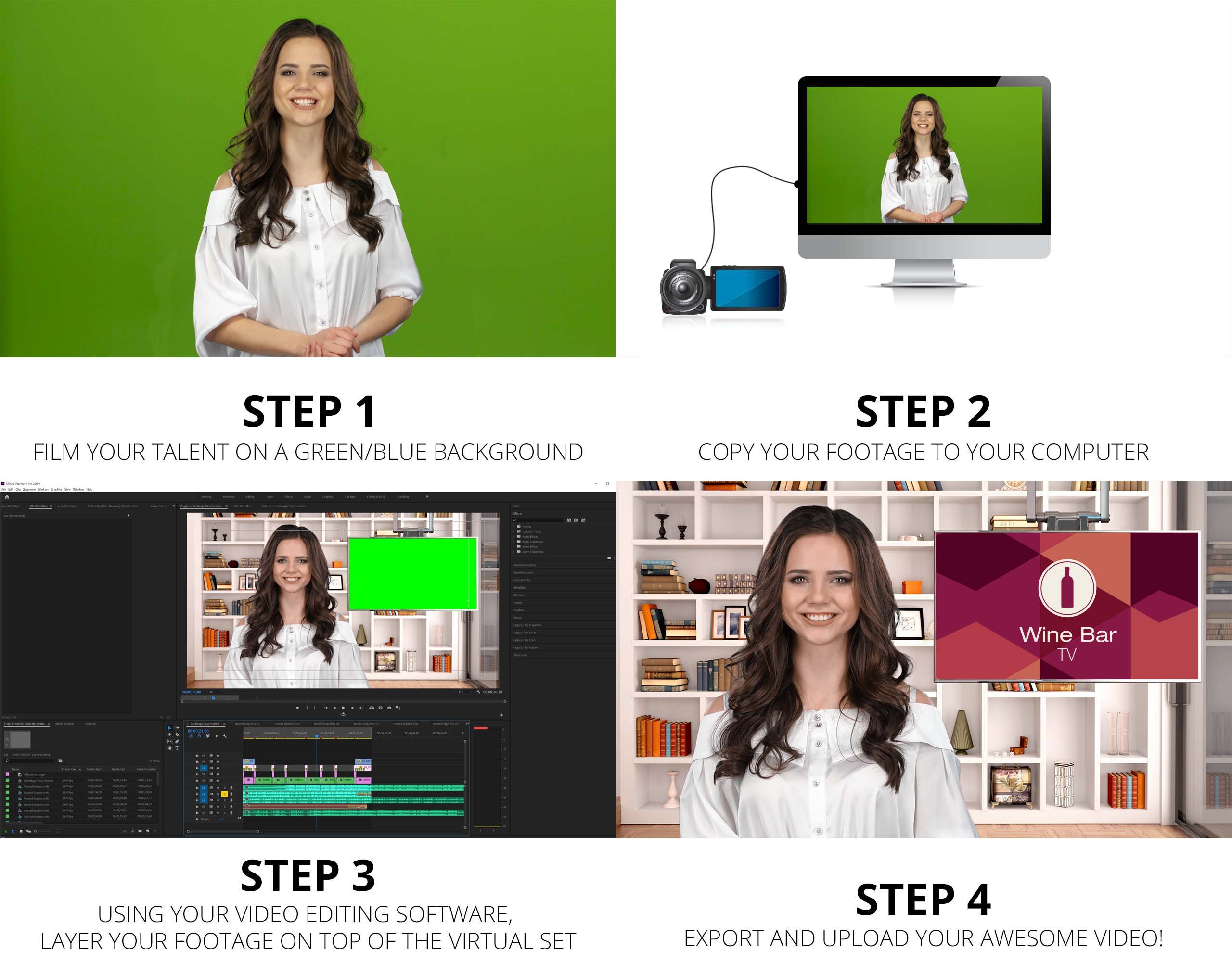 "My two young labs absolutely love this toy. They are rough on toys, so we have to work with them on not trying to destroy a toy the moment it is given to them.

This "flying squirrel" immediately became and continues to be a high value toy, so it is put up and out of the way when not being played with. Lightweight and flexible, but even so, the toy is really durable."

If you are new to video editing (or even if you are an experienced video editor), you may want to view our tutorial section which will give you some work flow ideas in the most common editing applications.Please note that even if your program is not in the list of tutorials, our HD & 4K Studio and Graphics Backgrounds will likely work in your editor. You can even watch some of the tutorials to get some work flow ideas which can be translated to the program of your choice.Scroll down for additional tutorials for the most popular video editing programs.